So I am a fan of lists. I try not to think of myself as a "type A" person, and I don't really think that I am. If you saw my desk at work you would understand why. I do, however, enjoy a good list, be it a to-do list, grocery list, bucket list...you get the picture. Last year, my friend Kristen did a little challenge in which she completed
25 special things
in the month before she turned 25. I loved her idea, but I decided to tweak it a bit. As we all know thanks to the popular meme, you only live once. So I figured that this year ought to be a memorable one considering that I will be a quarter of a century on Monday. Hard to believe. I'm blessed, and God is good. Always. So, without further ado, here's my list (in no particular order).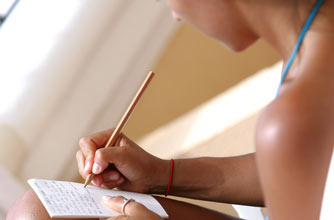 Run a marathon.
Host a dinner party.
Learn about gardening and begin planting some of my own plants.
Bake a loaf of bread.
Read one book a month.
Write my Compassion child, Maria Luna, every month.
Buy a new car.
Road trip somewhere with Kristen, Cortney, and Teresa.
Spend a whole day with each person of my immediate family.
Take up (or at least really try) yoga
Try one new recipe a month.
Save more money- $50 per paycheck.
Try 5 new restaurants in Athens.
Apply, get into, and start grad school.
Go to a "real" concert.
Take a pottery class.
Go on a mission trip.
Find a great LBD (little black dress) and a pair of go-to wedges.
Find a good sangria recipe, tweak it, and dub it "mine."
Volunteer more.
Find perfect shade of lipstick and buy it from the "fancy" counter.
Write more.
Walk to Cali 'N' Tito's with Katie on a summer night.
Visit Kai in D.C.
Truly study the Bible and know my favorite books well.
That's quite a list, and while I'm a little scared about some of the things, I'm super excited. Some of these things are challenges, and others are just for fun. Either way, this year is about stretching myself and making memories. Life is too short to do otherwise. I'll be sharing everything with y'all here, so stay tuned. :)
So teach us to
number
our
days
that we may get a heart of wisdom.-Psalm 90:12